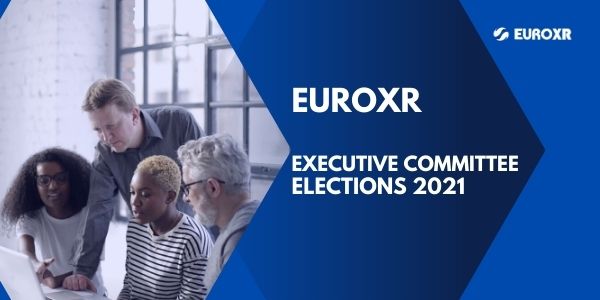 According to the EuroXR statutes, the Executive Committee and the President have to be elected every three years for a mandate of three years.
For this reason, all EuroXR members are requested to vote for it. You will find here below the lists of candidates subdivided between Corporate and Individual.
All members will receive more details by email.
Corporate
| | | |
| --- | --- | --- |
| Daniel Mestre – AFXR  | Marco Sacco – CNR-STIIMA | Frédéric Noël – Grenoble INP |
| | | |
| Daniel R. Mestre is a senior researcher in the Institute of Movement Sciences, in Marseilles. He is Head of the Mediterranean Virtual Reality Center resident of the Association for Extended Reality. His major research interests concern visuospatial behavior, psychophysical and neuropsychological approaches to active information processing. Virtual and Mixed Reality is used as an experimental tool to understand the sensorimotor and cognitive determinants of our presence/telepresence to the world, in both fundamental and applied domains. | Dr. Marco Sacco, Senior Researcher, head of CNR-STIIMA Lecco subsidiary, and head of division Enterprise Engineering and Virtual Applications. President of EuroXR (former EuroVR) since 2016. His experiences are VR/MR/AR applied to both the lifecycle of the product/process/factory (manufacturing) as well as in the well-being and healthcare sectors. He has been the coordinator of European (two of the larger EU projects in FP-VI and FP-VII) and National/Regional projects. He participated as an expert in several board both EU as well at national/regional level for the evaluation of research and development projects. He has more than 160 publications (104 Scopus certified – H-index 16), including papers in academic journals and conference proceedings. | Frédéric Noël is a Professor at the University at Grenoble Institute of Technology in France. Coming from the Mechanical Design disciplines his interests are mainly Computer-Aided Design and Collaboration assistance for designers. After a Ph.D. in CAD surface meshing techniques, he developed researches about multi-view product modeling for collaboration in product development. His current projects concern the definition of intuitive design office tools. Frédéric Noël was the coordinator of a European Research Infrastructure about Visualisation and Interactions called VISIONAIR providing Scientific Visualisation, Virtual Reality, and Augmented Collaborative Environments for Research activities, but also Ultra-High Definition networking facilities. He currently goes ahead within these activities to link heterogeneous and remote technical platforms. |
| | | |
Matthieu Poyade – The Glasgow School of Art

Jerome Perret – Haption
Angelos Amditis – Institute of Communication and Computer Systems (ICCS)
2015 – Present – Pathway Leader of MSc. in Medical Visualisation and Anatomy – SCHOOL OF SIMULATION AND VISUALISATION – THE GLASGOW SCHOOL OF ART – Glasgow, Scotland
2016 – Visiting Lecturer – NATIONAL INSTITUTE OF DESIGN – Bangalore, India
2013 – Present – Research Fellow in 3D Programming, SCHOOL OF SIMULATION AND VISUALISATION – THE GLASGOW SCHOOL OF ART – Glasgow, Scotland
2007 – 2012 Research Associate – DIANA Research Group – UNIVERSITY OF MALAGA – Malaga, SpainEuroVR/XR Role
2020 – Present – EuroXR Secretary
2015 – Present – EuroXR EC Committee Member
Current positions at EuroXR:
– Founding member
– Vice-President for Collaboration and European Issues
– Member of the Executive Committee
Other:
– CEO of Haption France and Haption Germany
– Member of the Executive Committee of the association VRISI (Germany)
Dr. Angelos Amditis is a Founding member of EUROVR. He was the Coordinator of the Network of Excellence (NoE) INTUITION (507248) in VR/VE-related issues. He was Organiser, General Chair and member of the Organizing Committee of the EuroVR2016 Conference Athens, Greece 22-24 November 2016. Moreover, Dr. Angelos Amditis is Research Director in the Institute of Communication and Computer Systems and a member of the ITS Board of Directors. He is the founder and the Director of the I-SENSE Research Group. Since June 2018 he is the ERTICO-ITS Europe Chairman while he has been a member of ERTICO Supervisory Board since 2012. He is a member of the Executive Board of ETP-ALICE. He is the Deputy Chairman of the Athens Urban Transport Organisation (OASA). He is the Vice President and one of the founding members of ITS Hellas.
Arcadio Reyes-Lecuona – University of Malaga

Kayvan Mirza – Optinvent
Krzysztof Walczak – Poznań University of Economics and Business
The University of Malaga was part of the INTUITION NoE and was a founding member of EuroVR. Pr.

Arcadio Reyes-Lecuona

has been its representative in EuroVR/EuroXR since the beginning. Since 2020, I'm part of the Executive Committee as a corporate member. The team of the University of Malaga involved in EuroXR is active in research related to 3D interaction and VR since 2000 and is currently focused on the field of 3D audio.
Kayvan is a born entrepreneur with a strong international background having built his career in the US and Europe. Before founding Optinvent, Kayvan held top management positions at large corporates such as HP, Invensnys, and Technicolor where he successfully created an optical component business from scratch. He also ran a high-volume component business with two R&D centers in Singapore and Germany, manufacturing in Indonesia (20mpcs/yr), and a worldwide sales force and agent network. He holds a BSEE degree from the University of Illinois and has studied Operations Management at the ESCP the oldest business school in Europe.
Krzysztof Walczak is a full professor in computer science and the head of the Department of Information Technology and the VR Laboratory at the Poznań University of Economics and Business in Poland. His research interests include VR/AR/MR systems, multimedia communication, interactive television, and semantic databases. He was acting as a coordinator in numerous research and industrial projects in these domains. He has authored or co-authored over 140 research articles published in books, journals, and proceedings of international scientific conferences (h-index = 22). He also holds several EU and US patents.
Tauno Otto – Tallinn University of Technology

Christoph Runde – Virtual Dimension Center (VDC)
Kaj Helin – VTT Technical Research Centre of Finland Ltd
Dr. Tauno Otto is a Professor at Tallinn University of Technology (TalTech) since 2010. At the University, he serves also as the Head of Development of the School of Engineering, and the Program Director of Integrated Technologies. He leads the Estonian national research roadmap initiative: Smart Industry Centre (SmartIC), including Industrial Virtual Reality Lab IVAR. His primary research interest areas are related to the digitalisation of industry (Smart Manufacturing, Industry 4.0, digital twins). Important partners in strategic cooperation are CERN, EuroXR, European digital innovation hubs (E-DIH). Tauno Otto has been active in VR/AR community as a local organiser of EuroVR2019 in Estonia (TalTech), and in EuroXR as a member of the Executive Board.
With more than 20 years of industry experience, Christoph Runde is one of the pioneers in the field of professional systems and applications of virtual reality (VR) and augmented reality (AR). After starting his career at Porsche, he joined the Fraunhofer Institute for Manufacturing Engineering and Automation (IPA) in 1999, where he led the institute's activities in VR/AR. In 2006 he achieved a Ph.D. degree with his thesis on "Conception and industrial implementation of virtual reality as a digital factory building-block". From 2007 on he developed the Virtual Dimension Center (VDC) to one of the biggest and most successful cluster initiatives for VR/AR in Europe. Under Christoph's leadership, the VDC was decorated with the European Cluster Management Excellence Label GOLD and numerous awards for its innovation capabilities and its quality of services. Christoph acts as the Vice President for the Industry of the European Virtual Reality Association (EuroXR). In 2017 Christoph was awarded an honorary professorship by the Heilbronn University.
Kaj Helin is a Principal Scientist in the virtual engineering area. He is a Certified Project Manager IPMA level C. Helin manages the mixed reality facilities in VTT Tampere. Helin has participated in and managed several ESA, EU, and national projects. Kaj Helin joined VTT in 1998 and has gained 23 years of experience in virtual/augmented reality, simulation, safety analysis, ergonomics, and usability.
Helin has been editor of EuroXR Application track proceeding for several years.
Helin is a member of the following committee: (1) Executive Committee of EuroXR (2) IEA-Technical Committee on Human Simulation and Virtual Environments
Individual
Mariano Alcañiz Raya

Patrick Bourdot
Khalil A. Saleem
Mariano Alcañiz, Ph.D., is the founding director of the Immersive Neurotechnologies Lab (LabLENI) at UPV and Full Professor (tenure position) of Biomedical Engineering at the Polytechnic University of Valencia and has courtesy appointments in Virtual Reality.
His general research interests hover around a better understanding and enhancement of human cognition combining insights and methods from computer science, psychology and neuroscience. From a technological point of view, his objectives are to improve Extended Reality technologies and the development of algorithms, methods, and techniques for ubiquitous and non-obtrusive measurement of human activity. Towards this end, he has been involved in projects related to clinical psychology, neurodevelopmental disorders, consumer neuroscience, organizational neuroscience, education, and training.
He has published more than 250 academic papers, in interdisciplinary journals such as Scientific Reports and PLoS One, as well as domain-specific journals in the fields of biomedical engineering, computer science, psychology, marketing, management, psychology, and education. The Spanish Research Agency and the European Commission have continuously funded his work for 30 years.
He is a member of the executive committee of EuroXR. His collaboration with EuroXR will be centered on how it can contribute to increase the visibility of Europe in Extended Reality activities and how to increase the interest of partners out of Europe.
Research Director at CNRS, Head of the VENISE team, a research group in V&AR of a CNRS laboratory of the University of Paris-Saclay (Orsay, France). Founding member of the French VR and AR Association (AFRV) and Secretary and member of the Executive Board of this association the year of its creation (2005), I have been a founding member of EuroXR (2008) and currently Vice-President in charge of "Academic issues & Conferences". I promoted from 2014 in name of EuroXR the AVR conferences organized by the Salento University, and its second VR summer School supported in 2017. During my mandates as Vice-President, I designed the charter for the organization of our annual conference, and I worked a lot to increase the scientific audience of our annual conference. I negotiated with the Springer editor the publication of the Scientific proceedings, and I managed two special issues of the Frontier journal for the best contributions EuroVR 2017, and EuroVR 208 & 2019.
I would like to be a representative of such members in the next EC of EuroXR.
Moreover, I want to pursue the work I started in 2017 to increase the international renewal of our annual conference. Apart from supervising the organization of the next EuroXR conferences as I have done it successfully in the past 4 years, I plan to work on the upgrade of the charter for our annual conferences. This upgrade would include, for instance, the creation of an international steering committee to manage the future annual conferences, but also the design of guidelines for the organization our conference jointly with other events. I plan also to manage a new special issue of the Frontier journal for best contributions of EuroVR 2020 and EuroXR 2021. I want also to support the organization of other VR/AR Schools again (one in planned in 2021 with Salento University), and work on the design of a mobility scheme program within Europe that EuroXR would be able to support for its members.
Khalil Saleem is an Academic and businessman, he is the owner of developers plus company for information technology.
| | | |
| --- | --- | --- |
| Schäfer Wolfgang  | Krzysztof Walczak | Gabriel Zachmann |
| | | |
| EUROXR is the place for me to share ideas and findings of XR research and development. To support this mission, I would like to get involved by organizing workshops for Ph.D. students, i.e. the next generation. My research experience and experience in organizing events distinguish me for this activity. | Krzysztof Walczak is a full professor in computer science and the head of the Department of Information Technology and the VR Laboratory at the Poznań University of Economics and Business in Poland. His research interests include VR/AR/MR systems, multimedia communication, interactive television, and semantic databases. He was acting as a coordinator in numerous research and industrial projects in these domains. He has authored or co-authored over 140 research articles published in books, journals, and proceedings of international scientific conferences. He also holds several EU and US patents. | Full professor for computer graphics and virtual reality at University Bremen, Germany, since 2012. Working in virtual reality for 25 years. Founding member of EuroXR (formerly EuroVR). Member of the Executive committee; has helped shape the EuroXR conference. Research interests include virtual prototyping, virtual testbeds (e.g., for space missions), medical VR simulations, geometric computing. |
https://www.euroxr-association.org/wp-content/uploads/2021/03/EuroXR-2021-ELECTIONS.jpg
300
600
EuroVR Admin
https://www.eurovr-association.org/wp-content/uploads/2020/07/EuroXR_logo-300x212.png
EuroVR Admin
2021-03-23 17:09:21
2021-03-23 17:10:44
EuroXR Executive Committee Election - 2021