Scientific Keynote Speakers
24 November 2021 –"Past And Coming 20 Years With Augmented Reality"
Dr. Christian Sandor has very recently been appointed  as Professor at Paris-Saclay University, France. Before that, he worked at City University of Hong Kong, where he directed the Augmented Reality Lab (https://ar-lab.org). In October 2020, he was appointed Augmented Reality Evangelist at the Guangzhou Greater Bay Area Virtual Reality Research Institute. Since the year 2000, his foremost research interest is Augmented Reality, as he believes that it will have a profound impact on the future of mankind.
Past And Coming 20 Years With Augmented Reality
Augmented Reality (AR) embeds spatially-registered computer graphics into a user's view of the real world. During the last 20 years, AR has progressed enormously from a niche technology to a widely investigated one.  This keynote consists of two parts. First, I speak about how major challenges for AR have been solved over the last 20 years. Second, I speculate about what the next 20 years are going to bring. 
The goal of this keynote is to present a Birdseye view of the AR domain, including the balance of power between the major AR forces US and China. In my view, Europe has a very big, possibly almost impossible, challenge ahead to catch up. I hope that my talk will contribute to laying the seeds of a major European AR initiative.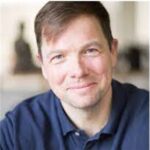 25 November 2021 –  "Virtual All of Us – Hybrid Social VR with Avatars and AIs"
Marc is heading the chair for Human-Computer Interaction (HCI) of the University of Würzburg. His work has a strong interdisciplinary background combining artificial intelligence, real-time interactive systems, 3D graphics, cognitive sciences, and psychology on top of a strong engineering foundation in computer science. Since his seminal work on multimodal–gesture and speech–interaction in Virtual Reality from the late 90th, he is interested in highly interactive and immersive interfaces of Virtual, Augmented, and Mixed Reality (VR, AR, MR). Current research topics focus on embodiment, i.e., of avatars and agents, body ownership and the Proteus effect, time perception, social VR, multimodal input/output, gamification, and engineering solutions for VR/AR, and on application areas for therapy, training, learning, and entertainment. He is an active member of the research community and has published more than 200 research articles in high-ranked journals and conferences. Several of his works won prestigious awards and are repeatedly founded by prestigious research agencies.
Virtual All of Us – Hybrid Social VR with Avatars and AIs
Tomorrows cyberspace will connect humans and AIs in social encounters not experienced today. Hybrid social virtual worlds populated with lifelike virtual avatars and agents will significantly blur the borders between the real and the digital realm. What is real? Who is real? This talk will highlight current approaches to embodied virtual humans, the impact of a realistic human-like appearance, and the role AI plays in the development as well as in potential applications of this technology.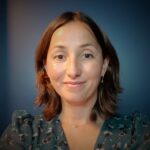 26 November 2021 – "Interactions between pedestrians: from real to virtual studies"
Anne-Hélène Olivier is an associate professor and a co-director of the master program in adapted physical activity at the University of Rennes 2, France. She is a researcher scientist at the Movement Sports and Health (M2S) laboratory and in the MimeTIC team at Inria. She received her PhD in Sports Sciences (Biomechanics) in 2008 (Univ. Rennes) where her project focuses on the analysis and modeling of human walking and of interactions between pedestrians. During her post-doc fellowship in Inria, she was interested in the interactions between real and virtual walkers, and especially the evaluation of VR to study such interactions. Her current research interests concern both the understanding of non-verbal interactions between people, but also the use of knowledge about human behavior to improve the design of navigation techniques and populated virtual environments. To this end, she uses an experimental approach both in real and virtual condition and develops collaborative work within a multidisciplinary research team. She has served as a conference scientific papers chair for IEEE VR 2019 (conf. track), EuroVR 2020, ISMAR 2021 (conf. track) and SAP 2021.
Interactions between pedestrians: from real to virtual studies.
Daily situations require humans to coordinate their movements with others, for example when walking through a public place, and to regulate interpersonal interactions, typically without a collision. Understanding such visuo-motor coordinations during social interactions is of importance, to improve both our knowledge on human motor control as well as the design of populated virtual environments. In this presentation, I will provide an overview of our research on interactions between pedestrians based on interdisciplinary experimental approaches at the intersection of Human Movement Sciences and Digital Sciences. We have first developed a new experimental paradigm to study collision avoidance behaviour between pedestrians as well as new metrics to quantify these interactions. While this experimental framework made it possible to characterize the visuo-motor coordinations involved, it was not sufficient to finely standardize the situations and investigate influencing factors. We then focused on evaluating the ability of virtual reality experimental platforms to reproduce the behaviours observed in real conditions. This work highlighted the great validity of this tool, preserving the nature of the adaptive strategies, despite the existence of some quantitative differences on the interaction metrics. In a third step, by developing experimental studies in real and virtual environments, we were able to evaluate the effect of situational and individual factors on these interactions.